Fine & Fettle
Cozy Coffeehouse in the Morning, Candlelit Gastro Lounge at Night
In fine fettle: "To be in a state or condition of health, fitness, wholeness, spirit or form."
Welcome to Fine & Fettle, a modern American dining experience with a focus on seasonality, where we want diners to live that good Southern life and eat with purpose. Modern yet approachable, we offer a farm-to-table service featuring locally and sustainably sourced produce plus wellness driven mixology through locally sourced ingredients.
Homey furniture, mismatched chairs, muted colors—the atmosphere we create here is something special, with clean, modern tableware peppered with rustic influences. Sprigs of dried flowers mix perfectly with our crisp linens and tumbler glassware. Feel the vibe of our colonial Southern home turned restaurant with each bite of our small plates and each sip of our handcrafted cocktails.
Hours
Fine & Fettle Coffee Bar
Daily: 6:30am – 12:00pm
Monday - Friday
Breakfast: 6:30am – 10:30am
Lunch: 11:00am – 3:00pm
Dinner: 5:00pm – 9:00pm
Bar: 11:00am – 9:00pm
Saturday & Sunday
Breakfast: 6:30am - 10:30am
Brunch: 11:00am – 3:00pm
Dinner: 5:00pm - 9:00pm
Bar: 11:00am – 9:00pm

Meet Our Team
---
Meet the team that makes it all happen at Fine & Fettle. From smoking cocktails and small plates to shareables in the classic American style, these guys are always serving up something special. Get to know the people in charge of your next food and drink adventure.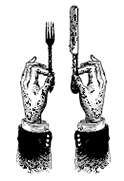 Specials
---
The menus at Fine & Fettle are somewhat mercurial, always changing when we devise something new and amazing. We invite you to keep checking back with us regularly, as our specials might change with the season or wherever our imaginations take us next. Join us on this culinary journey!

Private Dining
Fine & Fettle captures the freshness and vibrancy of locality, where new yet familiar flavors are enhanced by Southern charm. Chef Daniel Wheeler and team will take you on a culinary adventure, adapting his inventive menu with ingredients sourced in the South. Let's work together to plan the perfect cocktail dinner, wine tasting or celebration at our Chef's table or in one of our private boardrooms. For inquiries, fill out the contact us information below for menus, pricing and details.